Cold Brew Iced Coffee Maker and Tea Infuser - 1.0L/34oz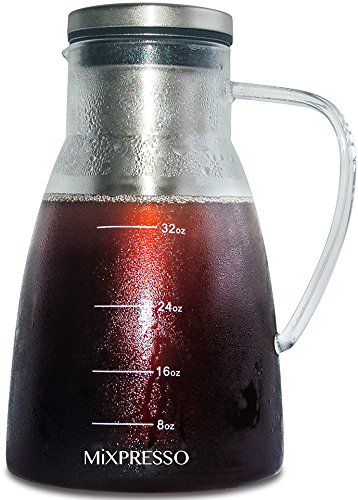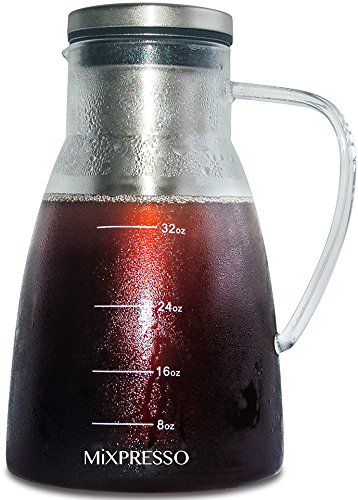 Cold Brew Iced Coffee Maker and Tea Infuser - 1.0L/34oz
SIMPLE COLD BREW COFFEE SYSTEM
Change your Coffee Experience with the best kept secret in coffee making.
Cold Brew Coffee was invented in Japan in the 1600's and it yields a smooth cup with more caffeine punch to get you out the door in the morning.
WHAT IS COLD BREW?
Coffee Grinds + Cold Water + 24 hours of Fridge Time = Smoother, Bolder, Better Tasting Coffee
CAN YOU MAKE HOT COFFEE WITH IT?
Because Cold Brew Coffee is more concentrated, just add hot water to Cold Brew Coffee and get the perfect hot morning coffee. Your brew is a great base for any hot, cold, iced drink, cocktail or shake.
Since it is an extract, you may want to add some water to your cup.
STORE IN THE FRIDGE FOR 2 WEEKS!
LOWER ACIDITY: Does coffee bother your stomach? NO MORE! Cold Brew Coffee fixes that because the extraction process leaves out fatty acids that make coffee sour and acidic.
SO SIMPLE TO MAKE: Just grind coffee. Put it in to Mixpresso's Cold Brew Coffee Maker. Put in cold water. Put into the fridge for 24 hours. Enjoy your favorite coffee drink.
VERSATILITY: Try different coffee beans. Try different grind sizes. Try different ratios of coffee grinds to water. Increase the brew time. Every thing you change gives you a new batch with amazing results.